WILDFIRES HAVE CHANGED. FIREFIGHTING HASN'T.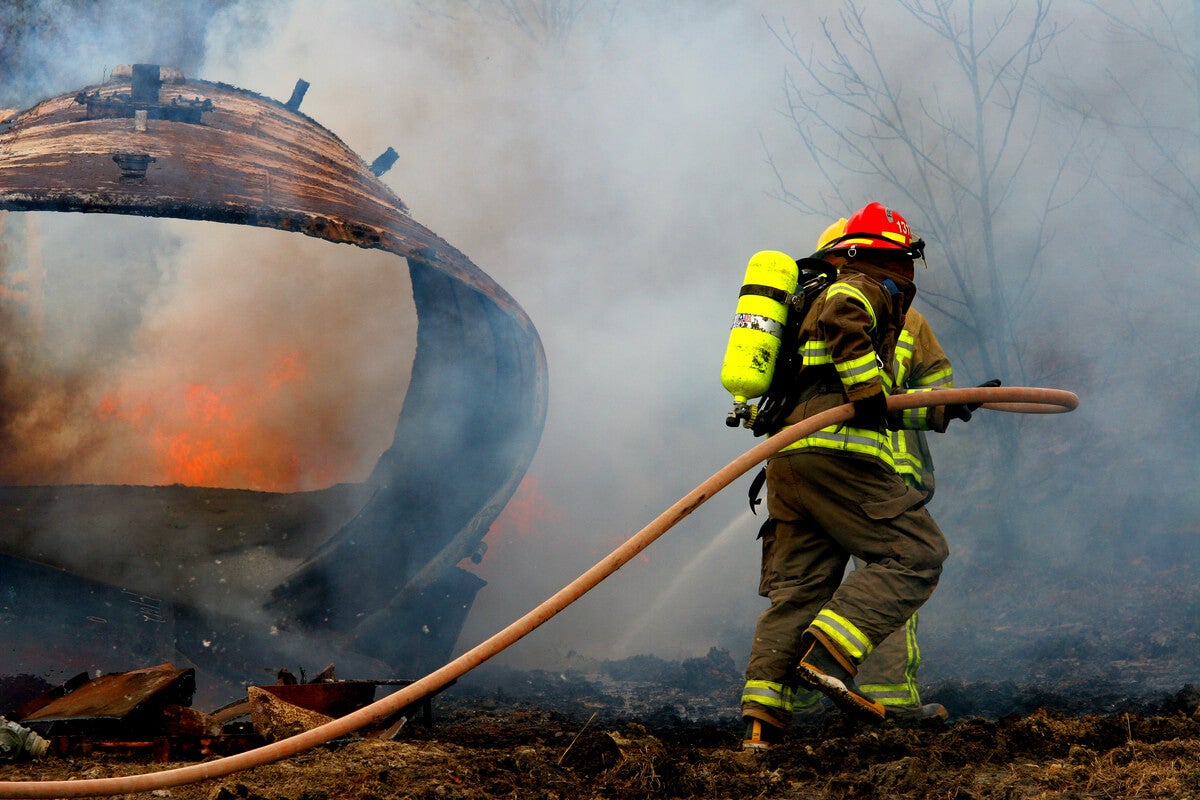 Imagine a world where humanity and fire can sustainably and safely co-exist. Where wildfires are detected rapidly, accurately, and precisely, allowing for the safe management of environmentally beneficial fires and the swift suppression of destructive fires. Where firefighting has transformed, ensuring the safety of firefighters, society, and ecosystems alike. 
INTRODUCING XPRIZE WILDFIRE
XPRIZE, the world's leader in designing and operating incentive competitions to solve humanity's grand challenges, today launched XPRIZE Wildfire, an $11 million-dollar, multi-year competition to innovate wildfire detection and rapid response technologies that will end destructive wildfires.
"We have been fighting wildfires the same way for decades – it's not working, and the destruction is getting increasingly worse. We need a radical re-invention of how we detect and battle these blazes," said Peter H. Diamandis, Executive Chairman of the Board, XPRIZE. "The convergence of exponential technologies such as AI, robotics, drones, and sensors offer us the opportunity to detect wildfires at inception and put them out in minutes before they spread – that's the mission of this XPRIZE."
XPRIZE Wildfire will incentivize teams worldwide to innovate across a wide range of technologies in two complementary tracks designed to transform how fires are detected, managed, and fought. 
In the Space-Based Wildfire Detection & Intelligence track, teams will have one minute to accurately detect all fires across a landscape larger than entire states or countries, and 10 minutes to precisely characterize and report data with the least false positives to fire managers on the ground.  
In the Autonomous Wildfire Response track, teams have 10 minutes to autonomously detect and suppress a high-risk fire in a 1,000 km2, environmentally challenging area, leaving any decoy fires untouched.
The $1M Lockheed Martin Accurate Detection Intelligence Bonus Prize will be awarded for innovations in the accurate and precise detection of wildfires.
IT'S TIME TO END DESTRUCTIVE WILDFIRES
Around the world, the severity of Extreme Wildfire Events (EWEs) is increasing, driving over 80% of fire-related damages globally and costing approximately $350 billion in damages annually in the United States alone. EWEs spread faster and burn larger areas at higher intensities, wreak havoc on ecosystems, drive up global greenhouse gas emissions, cause long-term global economic burdens, and often result in devastating injuries and loss of life. Despite these high environmental and economic costs, fire management technologies have not evolved significantly in decades, and best practices have not changed in almost a century.
The launch of XPRIZE Wildfire comes after mounting evidence that climate change's effects significantly impact the frequency and severity of wildfires. According to a recent report released by the UN, experts predict that global wildfires will only get worse, and the likelihood of extreme, catastrophic fires could grow 33% by 2050.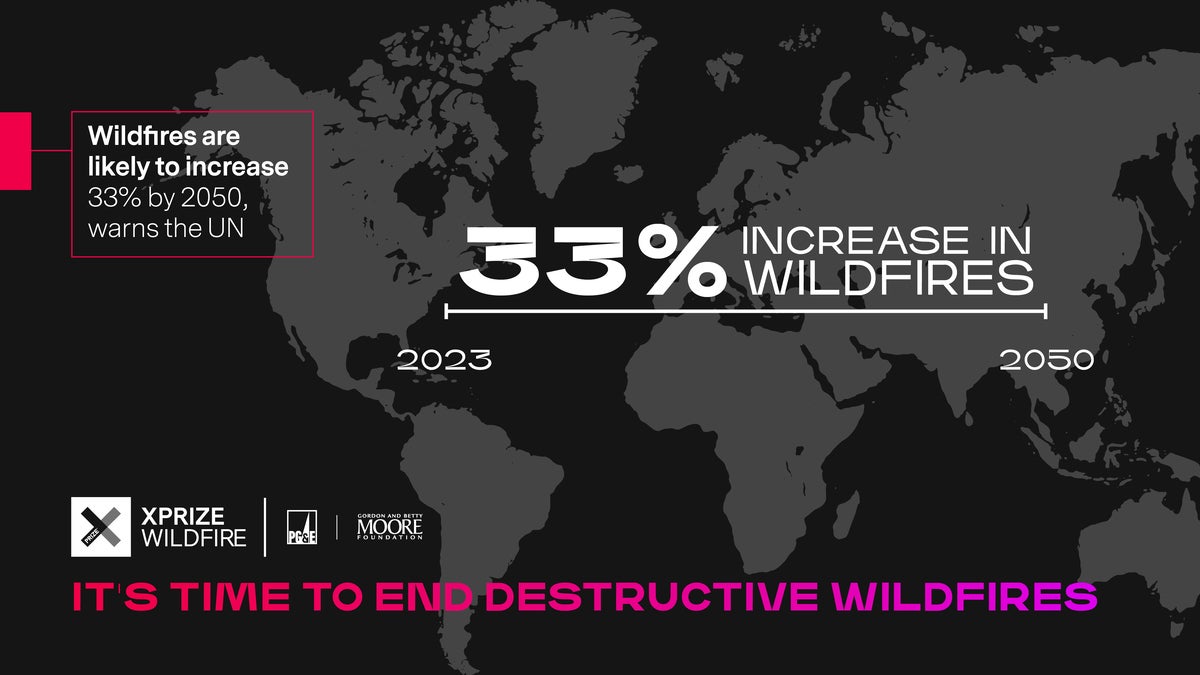 "The reality is that we are unprepared to effectively combat the growing number of wildfires and their severity around the globe," said Peter Houlihan, EVP Biodiversity and Conservation, XPRIZE. "As the effects of climate change worsen, more and more communities will be at risk as dangerous wildfires increase in frequency and devastation. Thanks to the generous contributions of our sponsors and partners, XPRIZE Wildfire will accelerate innovation in detection and rapid response that will transform wildfire management practices and save lives."
In light of global trends, including a changing climate, the risk of conflagrations will continue to heighten, increasingly becoming the new norm. While the increased risk of Extreme Wildfire Events is global, it is fast-growing in the world's most fire-prone landscapes: Southern Australia, Southern California, and Southern Europe. Wildfire frequency has increased by 400% in the western United States alone in the last 50 years.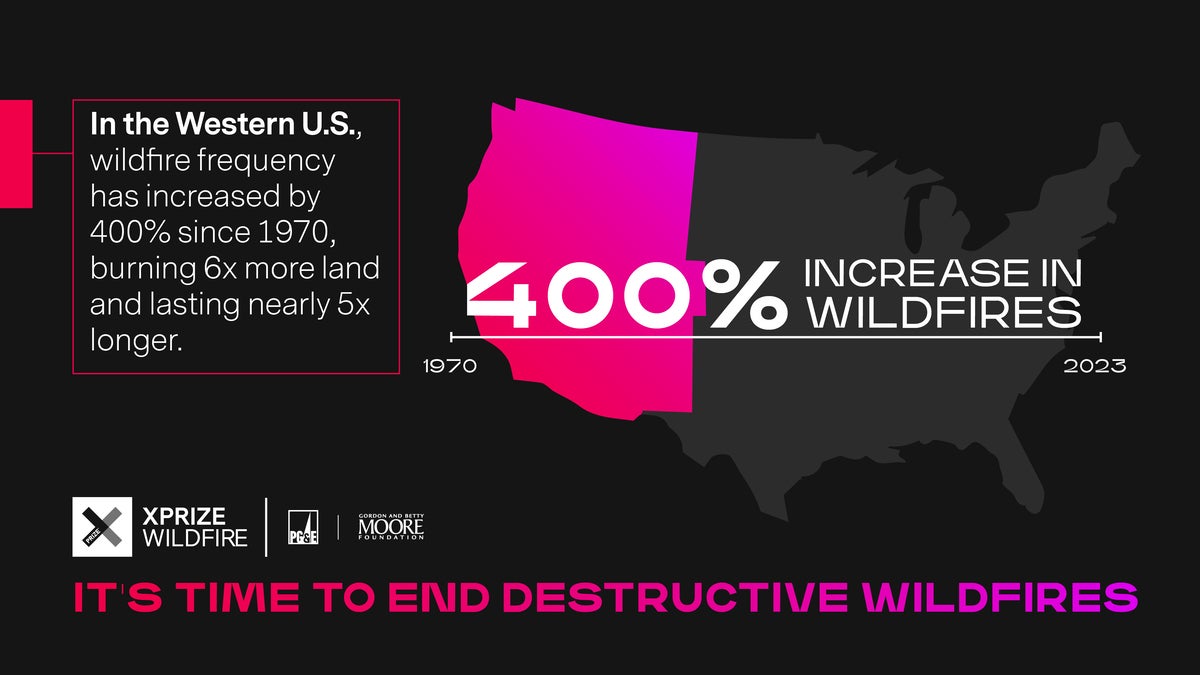 "In recent years, we've weathered some of the largest and most destructive wildfires in the history of our planet," said Dr. Lori Moore-Merrell, U.S. Fire Administrator, FEMA. "It's crucial that our federal agencies collaborate with the private sector to spur technology innovation to better support communities and address wildfire more holistically and to provide the firefighters on the frontlines a fighting chance to make a difference."
WHAT WILL XPRIZE WILDFIRE SOLVE?
Increasing accurate detection will allow valuable time for suppression. Today, citizens calling an emergency line still provides the fastest detection, however by the time calls come in, hours of combustion may have passed before a fire was noticed. 
Key detection tools in the U.S. currently include satellites and planes mounted with infrared sensors. But planes cannot roam the sky 24/7, and detection is challenged in the presence of thick forest canopy and smoke.

During an NPR interview, Brian Oliver, the wildland fire chief of Boulder, compared the inability to extinguish certain wildfires to "trying to fight a hurricane."
Another challenge is False Positives, i.e., hotspots mistaken to be hazardous fires. These may be safely contained in large fires or hot reflective surfaces like solar panels and water glares, or water vapor that is mistaken for smoke. When resources are mobilized to the wrong location – valuable time is lost. 
Part of the goal of XPRIZE Wildfire is to provide wildfire insights that allow firefighters to decide which fires to manage versus which to suppress. 
REGISTER TO COMPETE
Do you have what it takes to create the next technology for rapidly identifying and responding to wildfires? What are you waiting for: Sign up for the $11M XPRIZE Wildfire competition via the team registration form or share it with brilliant innovators in your network!
Register a team to compete, learn more and get involved at xprize.org/wildfire 
Palmer Luckey, founder and creator of Oculus, and founder of Anduril Industries, will be the first registrant in the XPRIZE Wildfire competition. 
"In success, this XPRIZE will deliver massive benefits to humanity, saving numerous lives and billions in property damage," said Luckey. "I'm excited to compete and expect dozens of talented innovators to join me in applying their talent towards solving this grand challenge and ending wildfires."
Whether you want to help recruit teams, support team success, secure an XPRIZE speaker or expert for your event, help scale winning solutions or assist with testing operations, we want to hear from you. Contact us at [email protected]
IN CASE YOU MISSED IT
If you missed the launch event, you can watch the webcast in full to hear from the experts behind the prize:
THANK YOU TO OUR SPONSORS & PARTNERS 
We're grateful to all of our prize sponsors and partners. XPRIZE Wildfire is offered in partnership with Co-Title Sponsors Pacific Gas and Electric Company (PG&E), and Gordon and Betty Moore Foundation, Presenting Sponsor Minderoo Foundation, Bonus Prize Sponsor Lockheed Martin, Supporting Sponsor Conrad N. Hilton Foundation, and benefactors Nichola Eliovits and Michael Antonov.
"I'm proud of the work the Hilton Foundation does to improve lives and know that their sponsorship of XPRIZE Wildfire to end destructive wildfires will do just that. I've witnessed firsthand how terrifying and dangerous wildfires can be and am grateful innovative technologies are being prioritized to prevent devastation in communities worldwide." — Paris Hilton, Conrad N. Hilton Foundation 
Global collaborators from the U.S. Fire Administration / FEMA, the Aspen Institute, NASA, New South Wales Rural Fire Service, the Australian Space Agency, USDA Forest Service, the XPRIZE Biodiversity and Conservation Brain Trust, and XPRIZE Wildfire Advisory Board were instrumental in the launch of XPRIZE Wildfire and will have continued involvement over the course of the competition.